March 2021
Welcome
Welcome to our first newsletter. We plan to publish regular Window Expeditions newsletters to provide you with exciting information about the platform, new features and what we have been doing with your contributions to the project.
About Window Expeditions
As you know, in Window Expeditions we collect textual descriptions of everyday landscapes from people all over the world. Our research explores how people describe their surroundings and how these descriptions vary depending on different factors including their location, the language used, seasons and other factors like restrictions related to COVID-19. Since the project was launched, we have received more than 400 contributions. Each individual text means that one of you took some time to write about what you experienced from your window, or while you were out and about. We are really thrilled about this level of support and are looking forward to many more contributions. Thanks to everyone who has contributed and please invite your friends and family to participate - because more contributions also means more places to explore!
Contribute
So how can you contribute to Window Expeditions? Go to Window Expeditions, take 5 minutes, look out of a window, from your balcony or from wherever you may be, and write a description - there is no right or wrong and no need to register. If you do choose to register, then you can go back and look at all of the descriptions you have written and collect points to compete in our league tables. We are happy to have multiple descriptions from the same place, or for you to write descriptions when you are out and about. All of the descriptions you write are useful in our research, and make the platform more interesting for others to explore.
Explore
We think it is great fun exploring the diverse descriptions that have been contributed from all over the world. Which description is your favourite? Every day you will also find a randomly selected contribution on the main page. Click on it to go to the map and see from where this description is. Add and remove languages on the right of the map view to see what and where people wrote about in English, French and German. Zoom and pan the map to find out where lots of descriptions have been written, and maybe to find places you could add new ones.
About us
We would like to take this opportunity and introduce ourselves. Manuel Bär instigated the project as part of his PhD exploring language, landscape and space. He is responsible for the implementation and keeping the servers running, and spends his free time gaming, building drones, windsurfing, and exploring the landscapes around his hometown of Biel. Barbara Strobl recently joined us to help coordinate our outreach. Barbara has lots of experience in citizen science through her PhD as part of CrowdWater project. Julia Villette is finishing up a PhD on placenames, and is responsible for everything to do with the French versions of Window Expeditions. Finally, Ross Purves worked with Manuel on the initial ideation for the project, and is responsible for finances, as well as working on other aspects of the project and related research with the team. Together, we are developing new features, and are interested in hearing suggestions and ideas from contributors. If you have an idea, or a question, then don't hesitate to get in touch with us.
---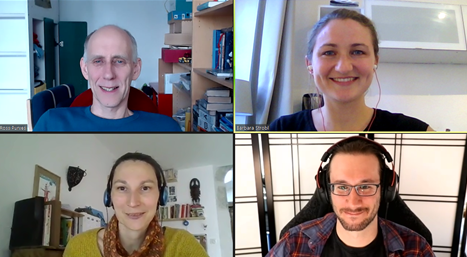 ---
News
Blog
Manuel wrote a blog post about the project.
Leaderboard
We are excited to present some changes to our leaderboard. Now all users can see how their country is doing. Currently Switzerland, the United Kingdom and the United States are leading the way – congratulations to all participants from these countries. Would you like to see your country higher up on the leaderboard? Write some descriptions and ask your friends to do the same.
---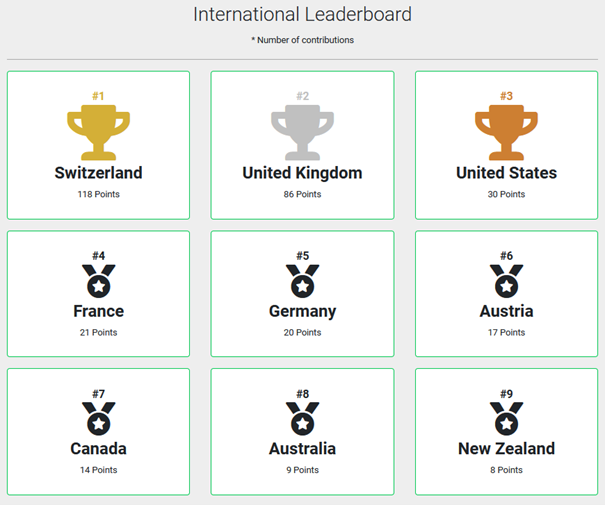 ---
Social media and platforms
We have just started a Twitter account. Please feel free to follow us and to share our posts with your network. You can also find us featured on some citizen science platforms, including Schweiz Forscht (Swiss citizen science) platform, the European Citizen Science platform and the American SciStarter platform.
Thank you to everybody who has contributed to Window Expeditions!
Best wishes,
the Window Expeditions Team